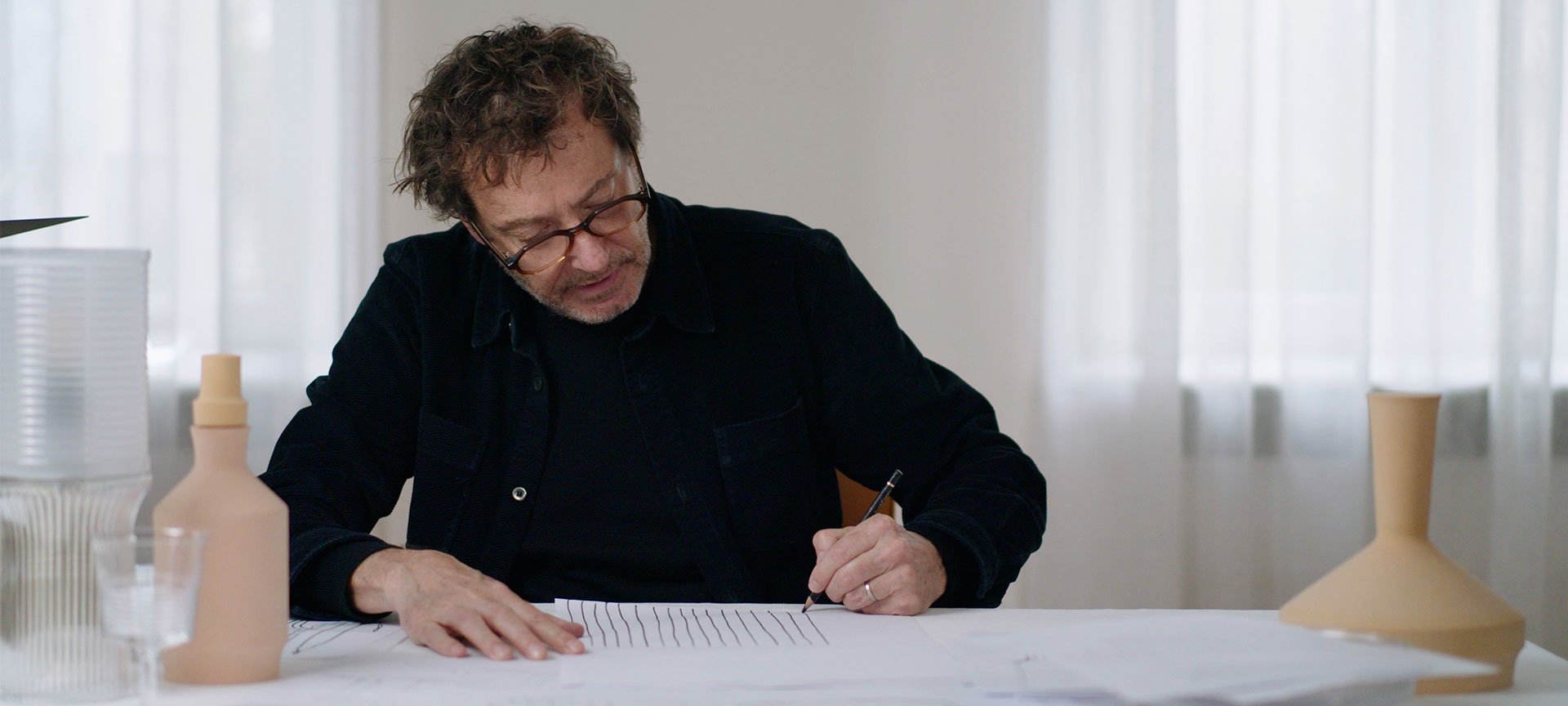 Designer Pierre Charpin and Saint-Louis created a new contemporary lifestyle collection. From tableware to lighting, through barware and decoration, objects ring true. Cadence is set to music by Pierre Charpin's drawings and born of an orchestrated symphony within the crystal manufacture. A rich score in tune with today.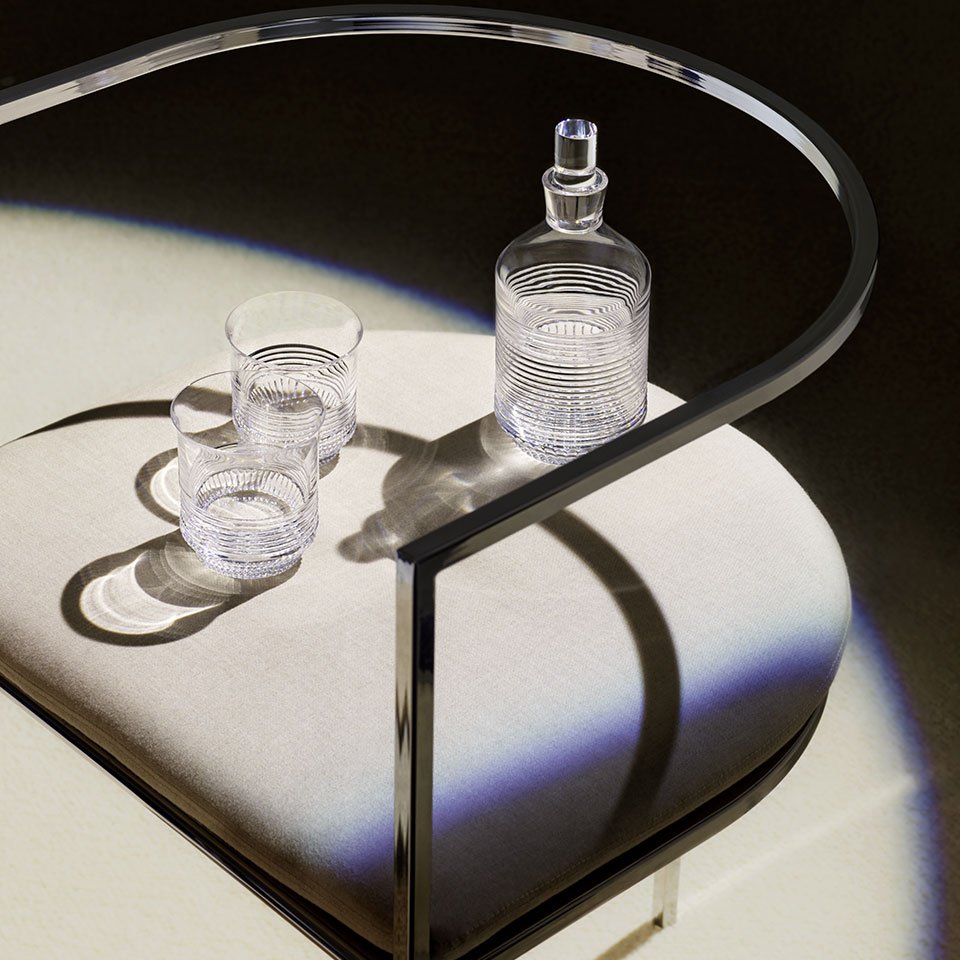 "Encounter of the lines, purity of the material."
Words: Sixtine Dubly for Facettes 7 – excerpt from June 2022 forthcoming issue
PIERRE CHARPIN, LINES AND INFINITE SPACE.
Your work involves the practice of serial drawing. How do you go about it?
Pierre Charpin - Everything comes from drawing. I draw a lot, always by hand. And I also throw away a lot. This process is how I discover the aesthetic concept of each of my projects. I like to find an idea, toss it around, develop it and work in series – whether for pieces destined for the kreo Gallery or for "drawing drawings", meaning drawings whose purpose is the drawing itself. Creating a collection is almost like creating a series. For Saint-Louis, I discovered this concept, quite simple in the end, of horizontal lines meeting vertical lines. This design works on all types of objects in the collection, from the table to the light fixture. It creates a connection, a line, and allows these objects to exist together or on their own, and to become part of an everyday landscape.
What was your approach to working with crystal, and with the manufacture, which you were already familiar with? *
Pierre Charpin - For me, ideas usually take precedence over materials. But my encounter with Saint-Louis is and remain the exception to this rule: it was impossible to ignore crystal, or the manufacture's existence, so I obviously took it all into account when I began drawing Cadence. Saint-Louis' lines are demanding they require perfect control of the crystal cutting. While drawing, I had in mind the artisans' gestures and artistry. Cadence's lines meeting and repeating themselves are really a tribute to the virtuosity of Saint-Louis crystal cutting craft. Manufactures, workshops are always emotional places. While drawing, I was thinking of the local landscape shaped by crystal activity, the village life of Saint Louis and its living heritage. There's a certain inherent rigor, even a fervor attached to the know-how narrative of the manufacture. It was really much tangible to me. I was feeling this great sense of purpose and personal satisfaction, creating pieces that would relate to All and say something about Saint-Louis.
How did you approach the technique of cutting?
Pierre Charpin - The lines of Saint Louis are exacting; they require a perfect mastery of cutting. If the line deviates just slightly, the meeting of the vertical and horizontal lines is off. It's quite dramatic and precise – like crystal cutting. This geometry of lines also suggests an encounter, a meeting. I like this idea of giving a material form to my encounters with friends or ideas, using lines that meet and follow each other for a while and then continue their own paths. A line is by nature infinite, with neither an end nor a beginning. My design often captures a fragment of it. I must say that lines occupy a lot of my time and therefore my drawings.
How did you envision the shapes?
Pierre Charpin - Over the course of its long history, the manufacture has cultivated a rich language of shapes. I had to find my place within that language. After several sketches, going back and forth with my assistants, who translate and concretize my drawings in 3D, we decided to shorten the glass stems, which are traditionally high at Saint-Louis, emphatic for today's everyday use. The lampshades were born from this same desire, to make crystal a part of everyday life. I wanted to create beautiful light, soft and diffused. Hence the idea of using the lampshade, which has already proven its worth, and the idea of pairing translucent crystal and opaque paper.
You are also known for your use of colour. Yet the Cadence collection pieces are made of clear crystal.
Pierre Charpin - What we tried to retain, above all, was the immaterial transparency of crystal – its purity, its light – through cutting and using paper as lampshades, both acting as screens. By screening crystal's diffraction, power, we create a new tension, a new poetry.