Used for certain frappé cocktails, it makes a perfect emulsion and cools ingredients of different types and densities. These can be fruit juices, cordials, alcohols, thick liquids (cream, honey, eggs, etc.), or solids (ice cubes, spices or fruit pieces). Its lower part consists of a tall glass in clear crystal that allows the mixture to be viewed. Used alone, it suitable for preparing cocktails stirred with a spoon. Its upper part in silvered metal fits over the top of the glass. It is composed of two sections: a middle part with the filter, through which the cocktail is poured, and the stopper in food-grade rubber, which tops the shaker and ensures it remains hermetically sealed for mixing. The shaker is essential for making a large number of cocktails, such as the Long Island and the Whisky Sour.

Product reference

12621700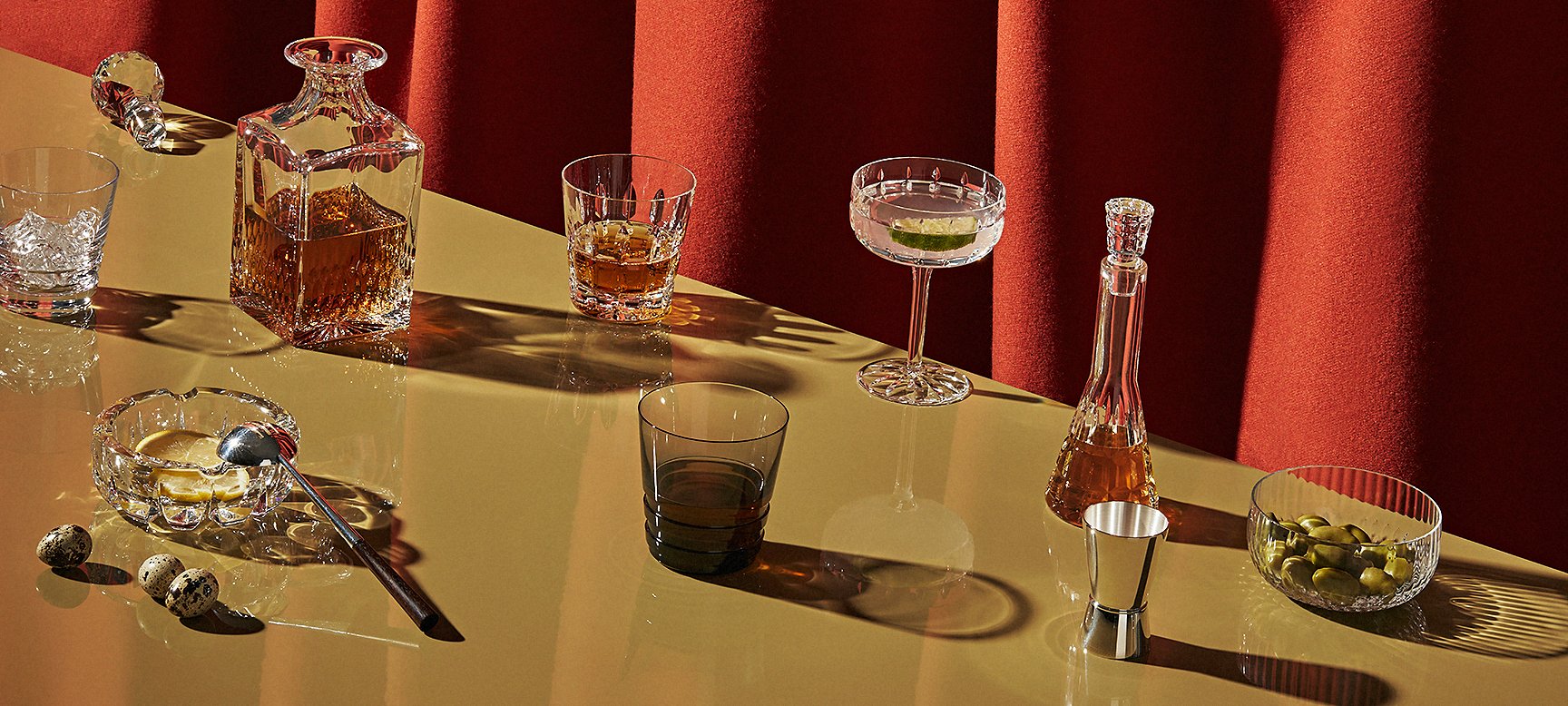 Mixology at home. Manhattan collection come from the name of a famous cocktail. And of a cosmopolitan, high-rise city, as vibrant as crystal. During the Prohibition era, this was where the culture of speakeasies and clandestine bars came about, born of a desire to continue having fun. And what if true freedom was simply about mixing and enjoying your favourite cocktails at home, amongst friends?
Manhattan is the name of a famous cocktail. Of a cosmopolitan city, vertical and vibrant as crystal. It's where speakeasies, underground bars born of the Prohibition era's desire to keep the party going, first appeared. This era had a strong influence on mixology. In 2018, the art of the cocktail is in the air, free to create and compose. What if true freedom were simply to prepare and experiment with your favorite cocktails at home, with friends?
This is the proposition of the Manhattan collection, interpreted here by the three founders of the Experimental Group, creators of places where mixology rhymes with conviviality.
Discover the Manufacture's transatlantic voyage, between American inspiration and French conviviality.
With Manhattan, the spirit of mixology can be experienced at home.
More Information

| | |
| --- | --- |
| Collection | MANHATTAN |
| Color | CLEAR |
| Design | CONTEMPORARY |
| Designer | - |
| Size | Unique |
Dimensions

| | |
| --- | --- |
| Height | 9.5 in |
| Diameter | 3.5 in |
| Volume | 16.9 oz |
Payment

Highly secure credit card payment

Returns

Get your money back, or exchange your products for 30 days

Customer service

Our team is available to answer to your question from Monday to Friday between 10 AM and 6 PM, on our contact page or by phone at +33 1 49 42 42 63.
a uniqueknow-how